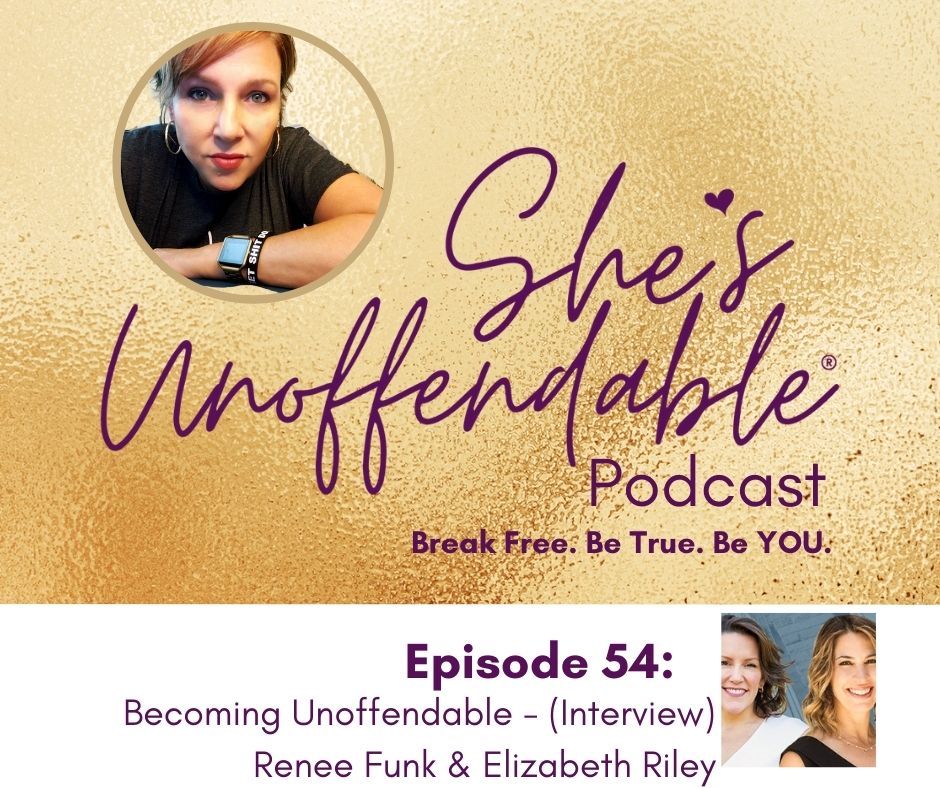 Thanks for watching this amazing interview on my "Becoming Un-Offend-Able Series" of the She's Un-Offend-Able Podcast. On this episode I am excited to have Alisia Krastel with me. She is a Realtor, Coach and a Motherhustler. We had an amazing discussion you will not want to miss.
For 1:1 Alignment Life & Biz Coaching you can schedule a FREE Clarity Call:
https://calendly.com/shesunoffendable/alignmentcall
Want more content? Let's connect!
Instagram: https://www.instagram.com/shesunoffendable/
Facebook:  https://www.facebook.com/shesunoffendable
For more info visit: www.shesunoffendable.com
She's Un-Offend-Able Podcast: https://shesunoffendablepodcast.podbean.com/
Here you go.... thanks so much for inviting me on
Renee Funk Co-Founder of The Funk Collection, INMAN Ambassador, & NBA Sponsor of The Orlando Magic. Serving the Central Florida real estate market, The Funk Collection received back to back 2019 & 2020 Real Trends America's Best Award. Ranking among the top one percent of real estate professionals throughout the United States. Renee's professional passion is customer service focused, with a love for coaching and the business development of Real Estate Agents, with authentic collaboration at the core.
As Leader of The Funk Collection, Renee delivers impressive growth including, expansion from an $8 million producing Team, to $50 million+ producing Team within 3 years. Fall 2019, Renee and Jeffrey Funk announced their multi-year Partnership with NBA Team: The Orlando Magic. Together Renee & Jeffrey were awarded the 2020 Top Couple in Orlando Real Estate by the Orlando Real Producer Publication.
Renee is a 20 year resident of the Orlando area, currently living in Windermere, Florida with her 2 beautiful sons, and husband of twenty years; Jeffrey Funk. In addition to Renee's family and real estate career, Renee's philanthropic passion remains focused on serving the Edgewood Childrens Ranch, supporting at-risk youth, in Orlando, Florida.
The Funk Collection Real Estate Team proudly specializes within the Central Florida - Orlando Market; including Windermere, Dr. Phillips, Horizon West, Winter Garden, & the wonderful vacation home communities near Walt Disney World Resort.
*********************
Elizabeth Riley, Team Leader for Luxe Property Group at exp Realty International 
With over 10 years experience in the real estate business, Elizabeth Riley has grown an amazing team in Austin, Texas and is proud to have agents throughout the city that can help you find your next home.
Many who know Elizabeth well often call her a "Wonder Woman."  She's the mother of four beautiful children, an active real estate investor (along with her husband, Wes) and is consistently ranked as one of the Top 10 real estate agents in her market center.  She is passionate about assisting her real estate clients and has built a successful business that is almost 100% based on referrals from her past clients.
.Owner/Team Lead of the Luxe Property Group with eXp Realty (2015), Platinum Top 50 Winner (2016),Texas Monthly Five Star Professional Winner (2016),Austin Business Journal Top Producer Nominee (2015, 2016),Platinum Top 50 Finalist (2015),Ranked #1 Top Producing Real Estate Agent in in 2014; Ranked #10 in 2013, Member of the KW Agent Leadership Council  (2008 – 2015),Austin Board of Realtor's Realtor of the Year Finalist (2013),Ranked #1 Growth Partner in the region (7000 agents) – 2013,Ranked #2 Growth Partner in the region – 2014,Certified Luxury Home Marketing Specialist, CLHMS,Certified Negotiation Expert, CNE, Member–The Institute for Luxury Home Marketing,Board of Directors–Sammy's House, Licensed in both Texas and Georgia,Texas notary,Military Relocation Specialist, MRS